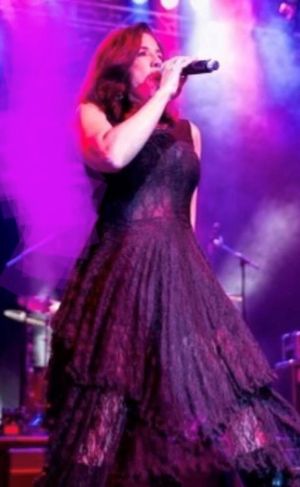 Julie Neal - Lead Vocals, Backing Vocals
Singing professionally in Columbus for a number of years, Julie Neal, has been performing lead and backing vocals for several bands, such as Little Kids and Second Nature, to name a few.
She might be best known for lending her backing vocals on many occasions to Columbus' rock royalty, Rosie, for their sold-out reunion shows!!
Julie enjoys performing for live audiences and can't wait to see you at one of Late Night Alibi's upcoming performances!
---
Don McClincy – Keyboard, Backing Vocals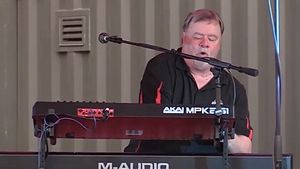 Don McClincy began playing keyboards professionally in the late 1970's primarily in the central Ohio area.  Some of his more notable projects include The Quick Band, Sybil, The Chain, Second Hand News, and the Fleetwood Mac tribute band Enchanted. 
 
Don lists an eclectic group of artists as influential to his style.  These include Steve Walsh (Kansas), Dennis DeYoung (Styx), Rick Wakeman (Yes), Keith Emerson (Emerson, Lake, and Palmer), Freddie Mercury (Queen), Jon Lord (Deep Purple), and Elton John.
 
You might find Don spending his spare time playing competitive badminton.   On the circuit, they call him "The Shuttlecocksman".
---
Rand Hollobaugh - Drums, Backing Vocals
 
Studying privately from the age of 10, Rand enjoyed playing drums in various school bands throughout Jr High and High School. He grew up listening to the rock music of the day and was captivated from the start.  
Rand started playing live in various bands such as Palantir and Escape that played around Columbus for a number of years.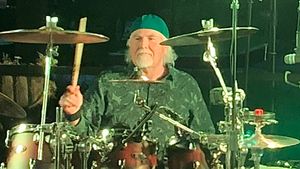 After leaving those groups, he played the nightclub circuit of Holiday Inns, Sheratons and various nightclubs throughout Ohio, Indiana, Michigan & Iowa, playing 4-5 sets a night, 6 to 7 nights a week! 
Now, with Late Night Alibi, he's enjoying being able to play a lot of the songs that he grew up with alongside some of our city's top local musicians.
Rand has been heavily influenced by Rush's Neil Peart, Journey's Steve Smith and most recently, Styx's Todd Sucherman!
---
Tim Dukeman - Bass Guitar, Backing Vocals
Raised in central Ohio, Tim Dukeman has been playing bass guitar for more than four decades now.
From the start, Tim's main influence has always been Geddy Lee, with an extensive classic rock background providing the tonal foundation for much of his signature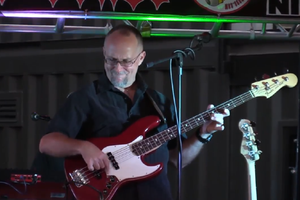 sound.
Tim also appeared on the 1983 Q-FM-96 "Rock Attack, Hometown Album Project Number 5" with Randy "Hollon" Hollobaugh ("You're Not The Same Girl"), as well as a brief stint as the bassist for the classic rock cover band, "Fast Benny, and the Boys Next Door", during the mid '80s.
As fate would have it, Tim's musical roots have brought him back full circle, providing thunderous, low-end riffs for the classic rock band, Late Night Alibi.
---
Randy Bressler - Lead and Rhythm Guitar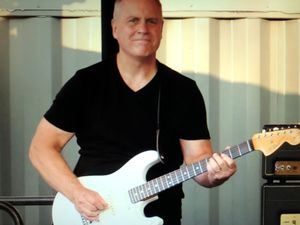 Randy Bressler has kept busy in the Columbus music scene for many years and has played alongside an impressive amount of Columbus' finest local musicians.
It's his love for playing the guitar, whether in front of a crowd or not, that keeps him motivated and enjoying what he does.
Randy prides himself on playing his parts as accurately and true to how the original artists recorded them. 
RUSH and Pink Floyd are who he cites as two of his favorite musical influences!
You are visitor number: 1196